If you're looking to expand your online business, a great way is by outsourcing your content writing. There are many companies to choose from and the cost and quality can vary considerably.
Textbroker is one company that provides a variety of writing services at low cost. But is Textbroker legit?
I'm going to show you the results of a job that I ordered from them. You will be able to see for yourself the type of quality that their company provides and see whether their writers would be a good match for your business.
Let's check it out!
The Content Writing Job Ordered
The job I requested was for a blog post that reviewed the services Textbroker offered. I chose an article length of 750-1000 words from a 4 star writer with a 3-day turnaround time at a cost of $21.62.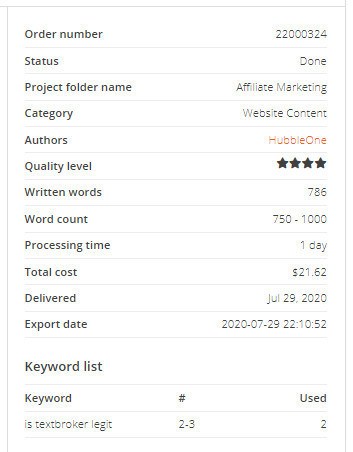 I chose a 4 star writer so that my review would be fair and ensure I was showcasing the type of quality that you can get from Textbroker.
Here are the exact instructions that I gave to the writer:
"I'm looking for a review of Textbroker that shows the quality of writing that can be expected from someone who's looking for a content writer. The review should focus on everything that Textbroker offers, the type of writers that are hired, and an honest view of the platform as a whole.
I will use your writing verbatim as an example of what a client can expect from a 4 star writer. You don't need to add an intro because I will add the intro, the cost structure information, and my personal experience as a Textbroker client to what you write.
You don't need to add images, but if you prefer to do it in order to showcase what a writer can offer to a client, you're welcome to do so.
Please use a conversational tone. If you'd like to refer to my website to see the style of writing it features, you can go to BuildYourEarlyRetirement.com.
Please do not pick up this order unless you can begin work on it immediately. If you have any questions, please message us before you begin work on this order. Thank you!"
So how did Textbroker do?
==>  Is your dream job to work at home and make money online? You can do it here!  <==
The Finished Job
A writer who goes by the username HubbleOne picked up the job and had it finished less than 12 hours later. Here is the post exactly as it was written:
"Is Textbroker legit? It sure is, provided you're looking to make some honest money, writing quality material for all sorts of clients. People utilize Textbroker's writing services because they feature dependable writers who have been properly vetted.
Why Use Textbroker?
It can be difficult to drive traffic to your business' website without content. Since you have so many things to take care of, finding time to write even one blog post per week can be tough. You may want to hire a full­time writer but not have the funds to do so.
Textbroker earns its name, as it acts like a middleman between you and writing talent. Clients like you place orders for articles they need written. Then, writers, looking for assignments, can choose to claim your assignment and finish it within the allotted time.
How to Get a Quality Article
You don't want to post an assignment and find it just gathers cobwebs or results in shoddy work. These are a few of the most important things to keep in mind. If any of these are left unchecked, the finished product might be lackluster or never arrive.
Clear Instructions
The topic of your order should be understandable from its title. A good order title will tell the writer exactly what you want. "5 Things All New Parents Must Know" is a much better title than "Parenting Blog." In the order briefing, elaborate as much as you need to. You can also make specifications, such as the audience you're trying to reach and what sort of voice it should be written in.
Keywords
Textbroker lets you include keywords to help you get better search engine rankings. You can make it so that a work can't be submitted until the minimum number of keywords has been reached. Avoid overstuffing your keywords, as that can lead to some very awkward writing. Focus on a few essential keywords and have reasonable requirements in place.
Author Rating
Textbroker authors are rating between two and five stars. While two­star authors have the lowest rates, of 1.5 cents per word, the quality is greatly reduced. Five­star authors are the best, but are the most expensive, at 7.2 cents per word. Most clients opt for four­star authors, who provided strong content at a reasonable price, 2.7 cents per word.
Order Options
Generally speaking, Textbroker has a "first­come, first serve" policy. Whoever accepts an article from a pool first gets to write it. However, there are circumstances where you ca make the author pool more exclusive.
OpenOrders
By placing your order an OpenOrder, you can let any writer within your required rating range pick it up. Once it's finished and submitted, you can choose if you want to accept it or if you need to send it back for revisions. You'll also have the option to rate the order on things like grammar and how well they followed your instructions and leave comments for them.
TeamOrders
If there are authors whose work you really like, you can invite them to a team you've created. TeamOrders function like OpenOrders, but the rates are higher. You can send group messages to your team members, reminding them about orders that are available or just to provide them words of encouragement.
DirectOrders
A DirectOrder is one you give to one specific author. This could be someone who has really impressed you with their OpenOrders or TeamOrders or who has a great record with other clients. These orders have the highest rates and can help you to get quality work o a consistent basis. You can develop a great rapport with an author through regularly giving them DirectOrders.
Revisions
An article might need minor or major adjustments. If that happens, you can give a revision request. Tell the author what they need to change. Get to the point as quickly as possible and express gratitude for the work they've done so far. If the work still isn't to your satisfaction, you can reject at. Then, Textbroker's Quality Assurance team will decide whether or not the rejection is valid. Should an author change their mind about writing an article after accepting it, they can cancel the process and return the article to the pool it came from.
We hope that we've proven that the answer to the question "Is Textbroker legit ?" is a strong "yes." This service helps to bring together great clients and great writers. You can get excellent content delivered in very reasonable turnarounds for reasonable prices. Think about what sort of writing work you need and consider how much of an asset Textbroker could be for you."
==>  See the legitimate program where I learned to make money online  <==
Did It Meet Expectations?

In my opinion, the article as written met the expectations that I had for the price paid and a 4 star writer. It was picked up and completed within 12 hours and was a total of 786 words long.
Is it perfect? No, but I didn't expect that an article would be written exactly as I would have.
There are a few of edits that I would normally make to make the tone of the article a bit more like my own writing. There's also a couple of misspellings that I'd correct.
But unless I had a writer that worked for me all the time and who I trained in my writing style, I can't expect someone to know my wording and phrasing.
When it comes to spelling errors, I can still find them in my own articles occasionally, so absolute perfection isn't something that I ask from anyone.
I paid $21.62 for this article, and I got my money's worth. You can see whether or not the quality of writing would be worth it to you.
Now, I have tried 2 and 3 star writers because they were cheaper. However, the amount of changes and editing that I needed to make went up accordingly.
If the reason you're looking at outsourcing writing is to free up your time to expand your business, I highly recommend spending a little extra for at least a 4 star writer.
Services And Pricing Offered By Textbroker
So what services does Textbroker offer, and what is the cost?
There are 3 types of articles that you can order:
Basic Articles–These jobs require very little research and don't need a lot of explanation, such as the one that I bought.
In-Depth Articles–These are jobs that require a great deal of research and a lot of explanation to the writer.
Foreign Language Articles–Your article will be written by a native writer in any language you choose.

When you order your project, you can choose a level of writer from 2 starts up to 5 stars, which are priced accordingly:
2 Stars–1.5 cents per word
3 Stars–2.0 cents per word
4 Stars–2.7 cents per word
5 Stars–7.2 cents per word
As you can see, the jump in price from a 4 star writer to a 5 star is considerably higher. Since I don't purchase articles that are complicated, scientific, or need a great deal of research, I've never hired a 5 star writer.
I have no doubt that they're worth the extra cost for those who need a higher level of writing. However, I've been fully satisfied with the content I receive from 4 star writers for all of my websites.
But you may want to look at your content requirements and check out the quality and cost of a 5 star writer. If you do, I'd love to have you update us with your results in the comments below!
==>  Tired of seeing nothing but scams?  See my #1 rated program here  <==
Textbroker Can Help You Make More Money Online
So is Textbroker legit? Just like my writer told us, my assessment is a definite Yes!
Textbroker is a content creation service that will help you create any kind of writing project you want, while selecting the quality and cost structure you need.
Most of my readers are like me, outsourcing articles for website content. Also, like me, you probably can't afford to pay $75 to $100 for a 1000 to 1500 word post.
But if you have a small budget to work with, utilizing Textbroker is a cost effective way to get more content on your site. And as affiliate marketers know, more content=more visitors=more referrals=More Money!
Have you ever used a content creation service? Do you have any experience with Textbroker? I'd love to hear your comments and thoughts below!