When people find out that I'm making money by affiliate marketing, I get a lot of questions. One of the most common is "Can you really make a lot of money that way?" The answer is Yes!
Now, "a lot of money" is definitely subjective, and if you ask 10 people how much that is, you'll probably get 10 different answers. But I think that most would agree that if they could make $100,000 a year or more working at home with affiliate marketing, they would say they're making a lot of money!
While I haven't reached that goal yet with my online business, I know that with my hard work, time, and the training I receive at Wealthy Affiliate, I'll definitely get there.
How can I be so sure? Because every day I learn and get advice from those who are making that kind of income from affiliate marketing!
Success Stories For Motivation
One of the wonderful benefits of WA is their online community of marketers. These marketers are from all stages of creating their businesses. There are beginners who have little to no knowledge at all, intermediates who have created their websites and are watching them grow and become more profitable every day (that's me!), and the experts who are making a full time income.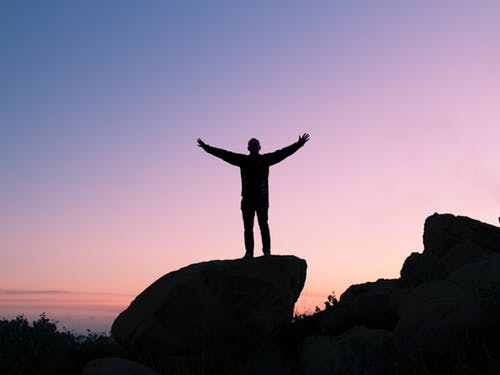 Every member has a personal blog that they can use to share anything they'd like with the community. Many members share their successes, small or large, with the community as a way to encourage others and help them stay motivated.
These success stories were a blessing for me during the months when I was building my websites and not making any money. No matter how many times you tell yourself that affiliate marketing is not a get-rich-quick scheme, it can be hard to stay motivated sometimes!
The first few months you put in a lot of work without getting any earnings, and that's normal.  But a lot of people quit during the first 6 months because they don't see the results they want. In fact, I wrote a blog post detailing a realistic timeline which you can read at How Long Does It Take To Start Making Money With Affiliate Marketing?
But the earnings stories that are shared with the Wealthy Affiliate community are truly inspiring and show everyone that if you follow the training and make the commitment to do the work, the sky's the limit!
So I want to introduce you to 3 successful online marketers who have reached that $100,000 mark in 2018 in the hope that you'll see what's possible for you too!
==>==>  Get my FREE Proven 5 Step Plan For Making Money With Affiliate Marketing <==<==
Marketer Officially Hit 6 Figures In 2018!
Ralph has been a member of Wealthy Affiliate since September 2016, and when his business made over $100,000, he wanted others to know if he could do it, they could too! I love this quote from his blog:
"But man great things in this world started with just a dream. If you have the desire and determination, unless you quit, I see no reason why you can't reach your goals."
You can read his inspiring earnings report and see how he did it by clicking below:
Officially a 6 Figure Business–2018 Year End Report
This Marketer Earned Over $100,000 Part Time!
Eddy has been with Wealthy Affiliate since 2007 and works on his websites part time since he still has a full time job. He's a great inspiration to show people how to work your butt off, then use part of your earnings to outsource and expand your business! My favorite quote from his blog:
"The only difference between people who are successful and those who are not is that successful people continue to try when others call it quits."
You can read about his results below:
My Blogs Earned Over $100,000 Part-Time in 2018
Experienced Marketer Shares His Tips And Income Projections
Nathaniell has been a Wealthy Affiliate member since 2010, has websites in several niches, and regularly shares his knowledge and tips for other members benefit! He shared his 2019 income projections for a site he created in 2015, and it shows how it's progressed at the same time every year in visitors and earnings!
"I can also see that I'm well on my way to earning six figures from this side-project website in the next year if I stick to what's working. Exciting!"
You can read his wonderful post below:
Anyone Can Make A 6 Figure Income With Affiliate Marketing!
Hopefully you can see that if you want to work from home and be financially independent, starting an online affiliate marketing business could be just what you're looking for. If these marketers can do it, so can you!
The comprehensive training, first-class website hosting, and a wonderful community are just waiting for you at Wealthy Affiliate. The best part? Their starter program is absolutely free–no credit card required! Start your business today and see how easy it is to create your first website below!