Is there a wealth creation secret that can make you over $1000 a month? Club 365 says they've "cracked the code" and they're "Blowing The Whistle On The Bleeding-Edge Wealth Creation Strategies of Today".
Have they really found the secret to wealth creation or is this just marketing hype from another program wanting you to open up your wallet? Find out in my Club 365 review and see why you shouldn't get your hopes up with this one!
What Is Club 365?
Club 365 is a membership program that provides you with online money-making opportunities as they become available. It was created by a man named Justin Powell, and you can have a lifetime membership for $27.99.
With the Club 365 membership you are supposed to receive brand new reports, video tutorials, insider secrets and case studies each and every month. If something changes or something new comes out, the information is updated with "blistering speed"!
Here are the topics that Club 365 will keep you updated on:
What's Working Now–They cover a brand new strategy that is making money right now. Supposedly, some of these strategies are so new that no one has heard of them before.
eCommerce–You will get info on everything eCommerce, which is Shopify, Amazon, eBay, and more.
Cryptocurrency—When the "profit explosion" hits, you are supposed to be ready for it! They also claim to reveal ways to get free cryptocurrency.
Affiliate marketing—You are supposed to get the cutting edge-techniques that will make you successful with affiliate marketing.
Money for Surveys—They'll show you how to profit from taking surveys from around the world.
Cutting-Edge Software—You will be able to find software that can automate many of the tedious tasks to make money online, and they'll bring them to you.
All of this sounds pretty good, right? For a lifetime membership of $27.99, you will get notifications and updates about every online wealthy creation strategy out there today!
So, I bought Club 365 to check it out for myself. When I saw the materials, saying that I was disappointed is an understatement. I knew the old adage had struck again–if it seems too good to be true, it probably is!
What Does Club 365 Offer?
When you get access to the members area, the first screen you see is the welcome page. On it they give you a member special for a profit website. This offer is for a FREE website to be built for you!

However, this is the same upsell that I've found in many of the lowest rated programs I've reviewed. In order to get this free website, you have to sign up for hosting with CoolHandle–which puts affiliate marketing profits into the bank account of the owner of Club 365!
You must pay for the hosting on an annual basis, so it will likely cost close to $200 to get your free website. In addition, my experience with offers like this tells me that this website won't be any kind of unique, optimized site that will make you money as they state.
The Club 365 program itself consisted of the following items:
~ Cryptocurrency–I won't pretend to know specifics about cryptocurrency. However, I do know that cryptocurrency markets are unregulated, can be extremely unstable, and prone to scam type programs.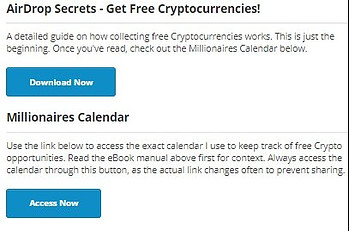 The information in this section of the Club 365 material is basically about how to receive airdrops of free coins. They discuss the history of airdrops and a general overview of how to claim them.
Then you receive what is called the Millionaire's Calendar, which is a spreadsheet detailing airdrops that you can claim. When I clicked on a link to claim one of the airdrops, I got a sign up sheet that asked for an email address.
In the Club 365 training, they stated that if you're not comfortable giving out your email, you can create a spam one to use for the verification. That's all I needed to know to feel confident that this training was not anything I could recommend, regardless of my lack of experience with cryptocurrency.
~ eCommerce–This section consists of the following:
After downloading each of these, I found the materials were even worse than the low expectations that I had. I'll give you an overview of each one.
The Ultimate Guide To Shopify is supposed to be video training. There's no video, just a PDF document that contains information that I can find for free online.
Ecommerce Kickstart is a guide to how to become an Amazon Affiliate. Again, this information is readily found online, so there's nothing in there that anyone should be charging people for.
eBay eCommerce Secrets is an overview on selling products on eBay. I'm pretty sure you can guess where else you can get this info for free!
The Amazon Rush was actually a surprise–but not in a good way. This download was the exact PDF file that I downloaded with Ecommerce Kickstart! Take a look at the Table of Contents for each section: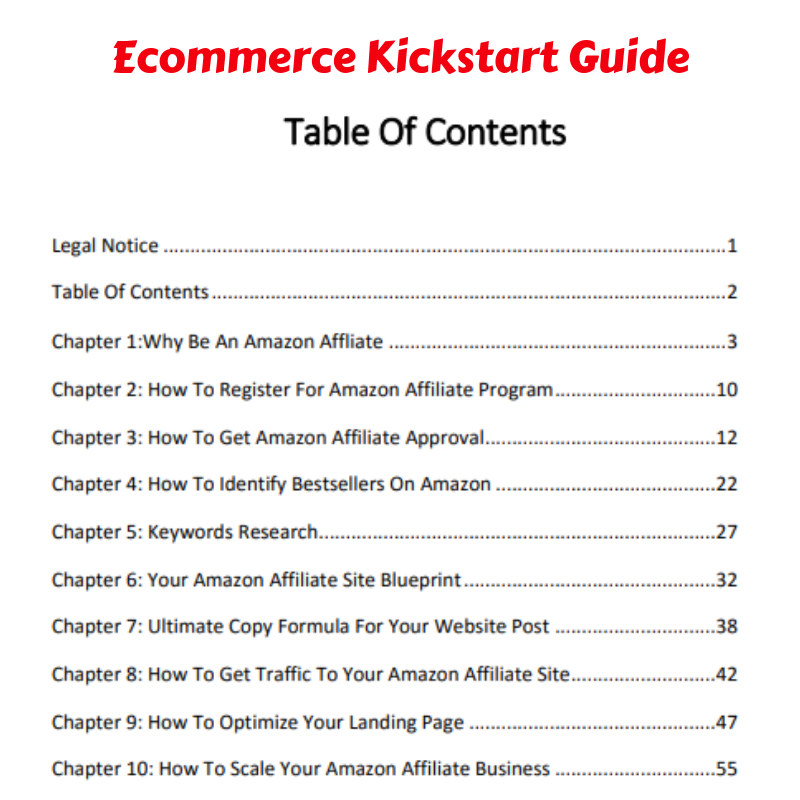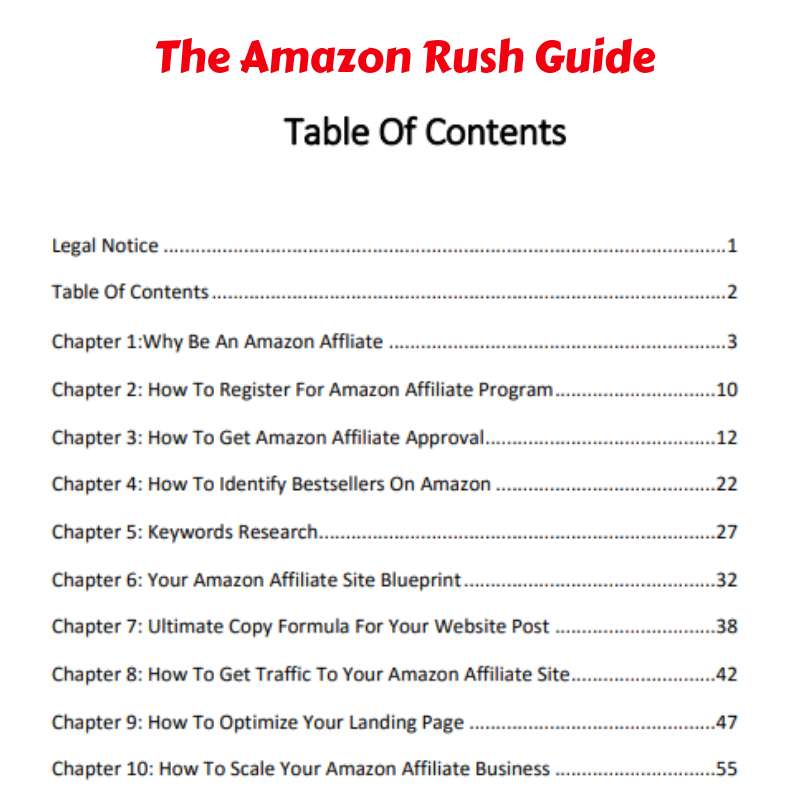 The eCommerce materials at Club 365 are more than low quality–you don't get what you paid for, and in my opinion it borders on a scam.  That isn't a term I use often or throw around lightly, but the next section reaffirmed what I was thinking.
~ Schedule–The last section is a schedule of the month's new updates and information. I've had this program for a couple of weeks, and today is November 4th. Here is what has been listed the entire time I've been a member:
It all looks good, except for the fact that none of it is actually available to you! There is no section where you have access to any of these things, and there are no clickable links on the schedule itself. So it's absolutely worthless!
There were upsells to this program before I got access to it, including one called Club 365 Priority Lounge. However, I saw no value to them and didn't purchase any. I am 100% confident that there is nothing they could add to this program to make it worth buying any additional memberships.
Red Flags And Concerns
I've gone over everything I've received from Club 365, so I'll recap all the red flags and concerns I found:
~ Income claims of up to $1000 a day or more are unrealistic and not possible with the info given from this program.
~ Scammy marketing hype and misleading sales video. Among other things, you are supposed to believe you're joining a live webinar, but you're actually just viewing a sales video.
~ Affiliate links misrepresented as a free membership bonus. If someone signs up for a website with CoolHandle, the owner of Club 365 will get affiliate commissions. I've seen this same "bonus" on other programs that I did not recommend.
~ The membership content is extremely poor quality or nonexistent. The information in Club 365 can be found online for free, other sections are simply duplicates, and the monthly updates were not accessible.
~ Cryptocurrency section is not for beginners, and the materials presented don't show any way to be sure you're dealing with legitimate systems. Putting in a spam email address so that you don't give any real information in order to get free coins is not how you deal with legitimate companies or programs.
Cryptocurrency is not something a beginner should jump into. Considering the very poor quality of the other sections of Club 365, there is nothing that leads me to believe that their cryptocurrency information is any better.
Build Your Early Retirement Rating
Here at Build Your Early Retirement, we give Club 365 our lowest rating of 1 out of 5, and do not recommend that you purchase this membership. Not only do I think it's highly doubtful that you'll make any money, I believe there's a very good chance you'll actually lose money–potentially a lot of money!
If you want to make money online, you have to find a legitimate system and put in the time and effort–there's no shortcuts. But the reward for those willing to put in the work is long-term, consistent, substantial income!
If that's you, then you need to check out the program I used to teach me everything I know about making money online. It's Wealthy Affiliate, and I host 6 websites on their platform and make money promoting products with affiliate marketing.
In addition to a world-class hosting platform, you get training, 1 secure website, access to an active community of online marketers, and more–all with no credit card required! This is the sign of a legitimate program–you get to see the value and features they offer before you pay anything.
Have you had any experience with Club 365 or other make money online programs? If so, we'd love to hear about them, as well as any questions you may have, in the comments below!