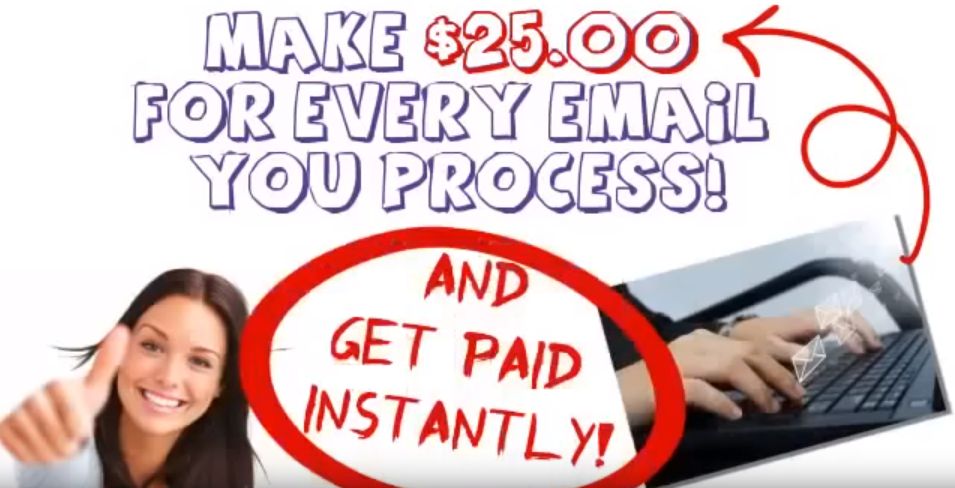 If you're looking to make money online, you may come across any number of websites or YouTube videos that promote big bucks with email processing from home. Sound like a dream job? A great home based business? This is an email processing system scam, and I don't want you to fall for it!
Keep reading for a review of this system and learn why it's not a legitimate way to start an online business:
What Is This Email Processing System?
The system is called Email Processing 4 Cash. It claims that if you purchase their system for $25, you will be able to work at home and receive $25 for each email you process. If you process just 5 emails per day, you will earn $3,750 per month!
So I started doing some research on this company, and red flags started flying. Here's some of the info I was able to find:
~ The website EmailProcessing4Cash.com is no longer valid.
~ I looked up the company with the Better Business Bureau. The grade given to this company by the BBB is an F.
~ There is an address and phone number listed, so I called the phone number to get additional information. I got an answering machine for a credit agency, so the phone number is no longer valid as well.
How Does The System Work?
If you sign up for this email processing system, you will pay your $25. Then you'll receive emails teaching you how to take out ads on sites like Craigslist, Facebook, and other social media sites to recruit people to buy the same email processing system that you just bought.
You won't be promoting anything tangible, and if you get people to sign up from your ads, the only thing they will get is the same emails and templates that you received when you signed up. They will then place ads and promote the same system, and on and on.
You can purchase an additional website to promote this system for a fee. There are also other upsells that you will be asked to buy and maintenance fees.
System Has All The Attributes of a Pyramid Scheme
The whole thing has pyramid scheme written all over it. Here is the Wikipedia definition of a pyramid scheme:
"A pyramid scheme (commonly known as pyramid scams) is a business model that recruits members via a promise of payments or services for enrolling others into the scheme, rather than supplying investments or sale of products or services. As recruiting multiplies, recruiting becomes quickly impossible, and most members are unable to profit; as such, pyramid schemes are unsustainable and often illegal."
The sponsors of this system try to make it appear legitimate by showing that the system has appeared on search engines and social media. But it's appeared on those places because people place their ads there, not because any of these sites advocate it.
If you join Email Processing 4 Cash, there is no recourse if you want to apply for a refund. There's no refund policy anywhere, and you would have to dispute the purchase on PayPal, or whatever payment processing system was used.
Why This System Is Not A Legitimate Online Business
Any legitimate online business has actual products or services to sell that are of value to their customer. The only thing you are selling with this system is the right to sell the system! As the internet gets more and more saturated with these ads, it will be extremely difficult to find more people to sign up.
Even if you do make some money, you won't be able to make long-term consistent income. The only way to do that is to create an informative website that delivers real products and value. A get-rich-quick scheme that has all the earmarks of a pyramid scam is not going to do that.
Our Rating
Here at Build Your Early Retirement, we give Email Processing 4 Cash a rating of 1 out of 5. We do not recommend that you purchase this system and believe that it is a scam.
If you are interested in building an online business that can provide unlimited income potential, you can check out our #1 rated platform and receive 2 hosted websites with training for free.
Have you been part of an email processing system? Are you looking for a legitimate online business to earn money from home? We'd love to hear your thoughts and comments below!