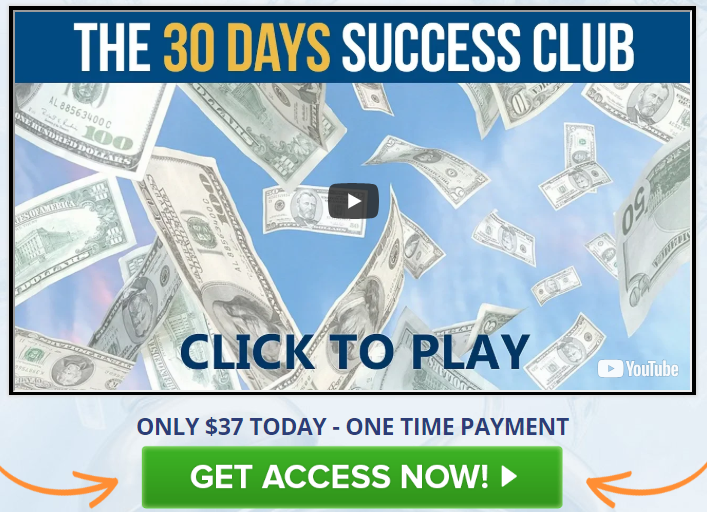 [yasr_overall_rating size="medium"]Starting an online business is a central theme to building your early retirement. But I want to be sure that I'm doing my best to advocate quality programs and expose any internet scams.
To that end, I want to review one of the latest money-making sites that just recently hit the web–the 30 Day Success Club. Is it going to make you a fortune or go into the long list of sites you need to stay away from? Run away fast and see why below!
What Is 30 Day Success Club?
The 30 Day Success Club is an online money-making opportunity that claims to be able to make you thousands of dollars ever month by using their free system. The program is available through ClickBank or at 30DaySuccess.Club.
I did not purchase this program before writing this review–I didn't have to in order to see the problems. From everything that I saw on their sales page and video and research, there was more than enough red flags to be able to give a solid NO to anyone interested in seeing if the 30 Day Success Club will legitimately make them money.
I will go through everything below, and you can decide for yourself if you want to take a chance.
The Sales Video Introduction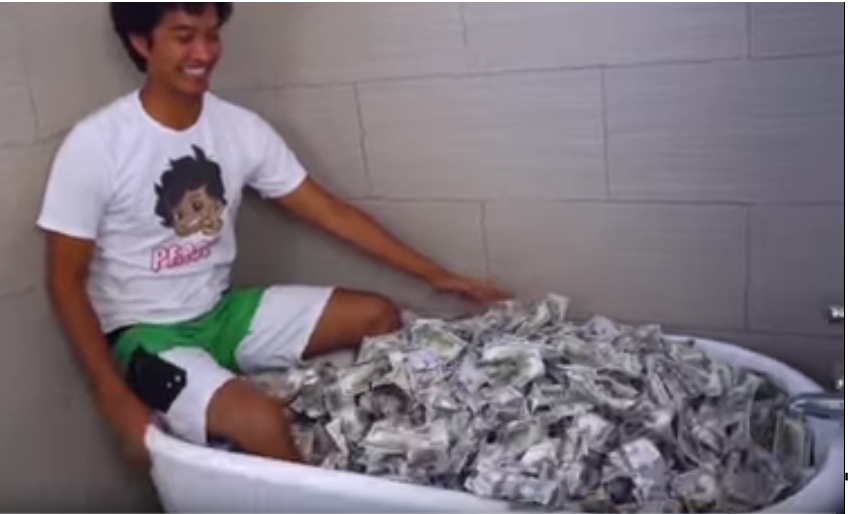 You are introduced to the 30 Day Success Club with a 44 minutes sales video that starts off by bank accounts, cars, and houses of rich people vs those of poorer people. Then you're shown a man literally getting into a bathtub filled with money while being told that you're going to get a secret that people have used to make millions of dollars every year!
From my experience, this type of marketing is the hallmark of every scam program out there. Then they tell you that this program has been used successfully by over 13,000 people in the last 12 months, and 3 people give testimonials about their success and the money they've made.
Here's the problem with that claim–this program was just started July 16 of this year, 3 weeks ago. So none of these testimonials can be true. Sure enough, when I clicked on the Terms & Conditions at the bottom of the page, and here is what I found:


The text highlighted in yellow says, "The testimonials used in the product as a reference for our viewers, this is purely marketing to make you aware of our product." The testimonials are fake, just marketing hype.
In addition, the website has no privacy policy. When I clicked on the link, it simply took me to the home sales page. Legitimate companies work to build your trust and would not leave out something this important.  This is all a huge red flag for me!
The Founder's Story
The rest of the video is the story about a woman named Debbie Jovan, who created the 30 Day Success Club. You hear how she became a widow due to her military husband being killed by an IED and left to care for her daughter alone with no job. After receiving $100,000 from the government, she found out her husband had secretly been in debt for over $85,000, so she wound up with barely any money, alone and depressed to the point she was almost thinking of suicide.
She had to make ends meet by clipping coupons out of the newspaper and downloading them off the internet from freebie giveaway sites. So she says that she did a lot of research and found out that companies will pay almost anything to get people to try their product, based upon sites like Groupon.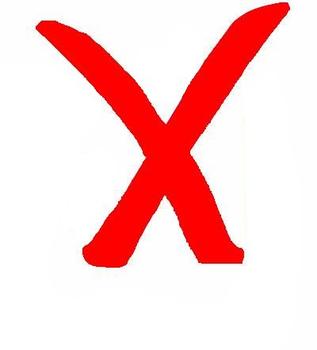 Then she had her brother create her own freebie giveaway website, found out how to get free traffic to the site, and within 30 days was starting to make money. By the end of her 2nd month, she had made $1300!
Call me a cynic, but I call the story BS and don't believe this woman really exists. All the photos are stock images off the internet, and the script wasn't believable. Where did she get all these freebies to give away that she got paid for? How was she able to drive free traffic to her site so fast?
If you're a beginner and not familiar with online marketing, you may not understand how unrealistic this story is. Everything about it rings false, but they're counting on newbies who are anxious to make money fast not knowing this. Another serious red flag!
What The Program Offers
The 30 Day Success Club is free access to a software system that builds you a website where you get to give away free samples for a commission. There are a few problems with this software and website: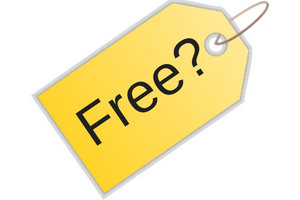 First of all, you have to pay $37 to get your "free" website, which is supposedly a one time hosting fee for the site. Having to pay any money for something that you're told is free isn't honest marketing, and it's another sign that this program is untrustworthy.
Second, the free "samples" you are given are ClickBank products, not free samples and coupons like you are led to believe. Many of these products are low quality with low conversion rates.
Third, you have no control over this website and the content. You can't add or change anything or add a blog to do any content marketing. So there is nothing you can do to increase conversion rates or edit any pages.
But, you will get a special report that details "fool proof" ways to get free traffic to your site! Some of them include:
Posting on forums
Commenting on blogs
Social Media
Guest blogs
YouTube Videos
Unfortunately, none of these ways will get you quality traffic to your site quickly. In fact, some of them are definitely spam and will get you blocked from social media sites and penalized by the search engines.
You also get 3 upsells from this "free" program:
$37–for Email Compatibility with autoresponders, such as GetResponse
$47–to be able to build 3 more sites
$47–for Heatmaps, which is a way to tell how many people are visiting your sites and what pages
In my opinion, none of them add any quality to a program that already has so many flaws. Looking for legitimate value in this system, it keeps coming up empty.
High Pressure Sales Tactic
One of the biggest red flags for me came in their claim that the founder was in talks with a TV executive about a reality show based on her system. She says she is currently in negotiations and will not have rights to the system anymore after October 27 of this year.
She claims that the greedy TV executives are planning on selling her program for $1997 after that date. So if you don't get it for "free" now, you'll have to pay that price later:

Does this seem credible for a program that just began about 3 weeks ago? No. It's also not credible to me that she is giving it away free out of the goodness of her heart because she's already a millionaire and just wants to help people!
Common sense is the name of the game here, and this program just doesn't pass that test.
Build Your Early Retirement Rating
[yasr_overall_rating size="medium"]The 30 Day Success Club gets our lowest rating of 1 out of 5. We highly recommend staying away from this program and believe that it's very probable that most people will lose money.
If you are looking for a legitimate way to earn money online, we recommend our highest rated platform that provides world class website hosting, training, and a wonderful community forum.  The name of it is Wealthy Affiliate, and I use it for all of my sites and for learning how to make a profitable business with my computer.  For more info on Wealthy Affiliate, you can check out my comprehensive review.
Have you heard of this program? What is your opinion of the points I've made? Please feel free to leave your comments below!