Many people ask, "What is an online marketing business?" There are many ways to market online, but what most people are talking about is called Affiliate Marketing.
For those who want to earn money online, affiliate marketing is one of the best ways to get started with very low costs. Let's see what it's all about!
What Is Affiliate Marketing?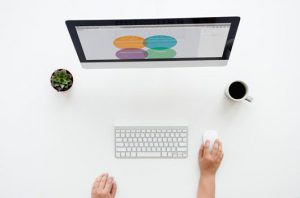 If you're not familiar with affiliate marketing, it's actually less complicated than you may think.
It is the process of promoting a product or service on a website, referring them to retail sites where they can purchase it, and then earning a commission when the customer buys something.
Have you ever purchased anything online from a retailer after clicking on a link from another site? If you have, an affiliate marketer made money from your purchase–at no extra cost to you!
Did you purchase something other than the recommended product or buy other items as well?  The affiliate marketer made a commission from those too.  It's a very lucrative business model with many marketers making over $100,000 a year!
Is this something that a beginner can do? Yes!  Thousands of people make money online this way every day.  Here is a video that gives a great overview of how affiliate marketing works and how you can make money online: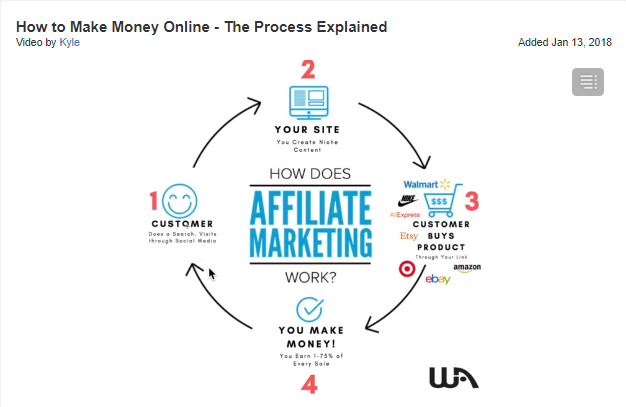 Affiliate Marketing IS a Legitimate Business
When I first heard about affiliate marketing and started looking it up online, there was a lot of talk about scams. I couldn't help but wonder if it really was a legitimate way to make money or some sort of fraud.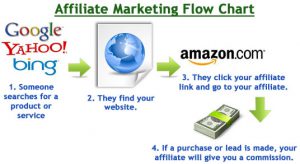 But after doing extensive research, I realized that the business of affiliate marketing was a very real way to earn an income.
Advertising is an expensive cost for companies.  But by paying a commission to affiliate marketers to promote their products, the company's costs are lower, and they only pay when they get a sale.
What I had to look out for was many of the scam sites that have been developed to lure people into get-rich-quick schemes. They tell you that they have a system that will do it all for you and you can just work an hour or so a day–but they don't work!
Anything worthwhile will take effort and time, and affiliate marketing is exactly the same. You can feel confident that this online business is worthwhile, profitable, and completely legitimate!
==>==>  Get my Proven 5 Step Plan To Make Money With Affiliate Marketing  <==<==
What Do I Need To Start?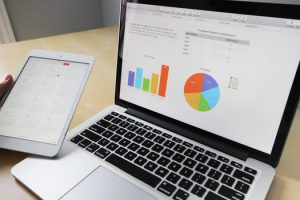 As I've said, you can start an affiliate marketing business with very low costs. As far as equipment goes, you'll need a desktop or laptop computer.
While you can access the internet with a cell phone or tablet, the small size of these will make it difficult to do all the work you'll be doing online.
Here is a what you'll need to purchase to start your business:
~  A Website–You have to create a website.  Sound complicated?  It's not!  With today's technology, you can literally create a WordPress website in 3 minutes.  You don't need to know any coding or technical knowledge, and there are thousands of free themes to give your site a unique, personal look.
See how easy it is to create a website in this short video:
~   A Niche–A niche is simply the main topic for your website.  Many people have a hard time choosing a niche because it can literally be anything!  But the best way to pick one is by looking at your hobbies, interests, and passions.
For your first site, you'll find it much more enjoyable and easier if you choose a niche that you'll be excited to write about.  Here's a guide that breaks down the steps to choosing your first website niche–What Is An Affiliate Marketing Niche And How Do I Choose One?
~  A Domain Name–A domain name costs about $14 a year, which you pay for and renew annually.  The name you want to pick for your site should be easy to remember, not too long, easy to type, and relevant to your niche.
 The important thing to remember is to choose one that you'll like and not stress over it too much.  What brings visitors to your site will be the great information and content that you will post!
~  SSL Certificate–An SSL certificate encrypts your site making it unreadable to hackers.  It's important that you have this feature to protect your site and your visitors, and the search engines rank an unsecure site lower in their search results.
Many hosting services offer it free with some of their larger plans or for a  fee. My #1 recommended program not only offers it for free with their paid membership, but also on their free websites offered in their starter program!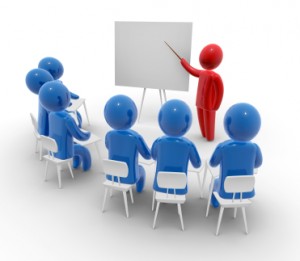 ~  Affiliate Marketing Training–This is optional, but I strongly advise finding a training platform where you can learn and ask questions from successful affiliate marketers.
I highly recommend checking out a program like Wealthy Affiliate, which is my #1 rated platform. 
It has a free starter membership, and you get to see all the features they have to offer along with 2 free websites–no credit card required!
If you decide affiliate marketing is right for you, they have a premium service for just $49 a month.  You can create up to 25 free websites and 25 of your own domains, get 1000's of training modules, live chat, and an awesome community of fellow marketers that offer support and help.
Wealthy Affiliate is where I learned how to make money online, and I now have 6 websites hosted with them.  It took time and effort–this is not a get-rich-quick scheme, and they are honest that you'll have to work hard to become successful!
As you can see, the costs of starting an affiliate marketing online business are extremely small, especially when compared with other businesses that can cost hundreds, if not thousands, of dollars to start.
==>==>  See the legitimate program where I learned to make money online  <==<==
Can You Really Make Money With Affiliate Marketing?
Yes! You can make money with affiliate marketing. But the real questions that people want answered is how much and how long until the site makes money? The answers aren't simple enough to put a number on because it truly depends upon many factors: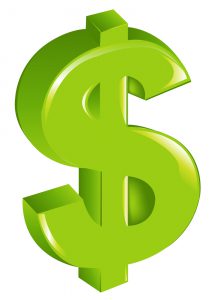 How much time do you have to devote to your business?
How experienced are you with doing research online?
Have you done any writing before?
How fast can you learn how to navigate the features of your website?
Are you experienced with social media?
Do you have anyone mentoring you or any training available to help you?
It will take time to get your website ranked in the search engines, and each person brings their own knowledge and skill set to their business. Some marketers begin to make money in just a couple months, most take 6 months to a year.
The amount of money you can make depends upon YOU and the time and energy you are willing to spend making your business a success.
Here's a video from our YouTube channel that gives a good guideline for how long it takes to make money with affiliate marketing:
But the trade off for taking the time to build a solid affiliate marketing business is that you can earn long-term, substantial, consistent income.  There is literally no limit to how much you can make!
Want to make a little income to buy a new car or take a vacation?  Maybe create a part-time income to help pay bills?  Would you like another income source to retire early?  Or are you looking to replace your full-time income to work from home?
All of these are possible with an affiliate marketing business!  You can be in total control of how much money you make, when you work, and where you work.
As long as you have a laptop and an internet connection, you are in business!
==>==>  Is your dream job to work at home and make money online? You can do it here!  <==<==
Start Your Online Marketing Business Today
Does affiliate marketing sound like it's for you? If so, you can get started right away. Creating your first website will take just a couple minutes, and you're on your way by clicking in the box below:
So the next time you hear somebody ask, "What is an online marketing business?", you can tell them about affiliate marketing and see if it's right for them! If you need any help, have questions, or would like to share your experiences with starting your own online marketing business, feel free to leave comments below!