Affiliate Titan released it's version 3.0 in 2017 as an affiliate marketing program that is supposed to change affiliate marketing forever! So I took at look at what this platform has to offer to determine if it's worth your money or if it's a scam.
My Affiliate Titan review is as thorough as possible, and my intention is to help you make a well-informed decision about purchasing this program.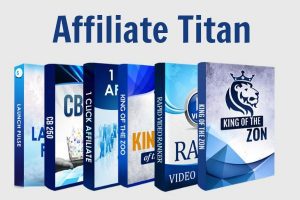 For a quick summary of everything I have researched, the few items that have value can basically be found on the internet for free already. The affiliate marketing system they offer is very low quality and extremely unlikely to produce anywhere near the kind of money that they want you to believe it does.
So at best I cannot recommend Affiliate Titan, and at worst I think they are trying to appeal to those people who are desperate enough to hope that they can get rich quick. I'll detail my findings below, and you can decide for yourself!

Chasing the Next Best Thing
Affiliate Titan offers you 6 software tools that are supposed to revolutionize the industry. But what they are trying to sell you is the idea that you can find some hot sale item, throw a few details about it into a computer program, and their system spits out a landing page or video.
Then the search engines will be falling all over themselves to put you at the top of their pages, and then you just sit back and rack in thousands of dollars!

Sound too good to be true? It is, and you'll just be chasing your tail!  The days are long gone when putting a keyword-stuffed, scripted page gets rewarded by Google, Bing, or Yahoo. They are looking for quality content and punish low quality sites that are obviously just looking for a quick buck.
==>==>  Is your dream job to work at home and make money online? You can do it here!  <==<==
6 Software Tools–Actual value?
So the backbone of this program is their software tools–let's take a look at each of them:
King of the Zon–This software is supposed to deliver to you the top 200 outstanding affiliate programs on Amazon every day. Now that sounds pretty good–unless you just go to Amazon's Best Sellers list and see all the top sellers in every category updated every hour!
You can also access New Releases, Movers & Shakers, Most Wished For, and Best Gift Ideas. After a quick Google search that shows all of the affiliate programs in the niche you've looked at on Amazon, you can have more in-depth information than you get from this software.  Plus, King of the Zon is available for free online!
Launch Pulse—Affiliate Titan tells you that you can find all the new affiliate launches with this software. However, you can just go to JVZoo and look them up, you don't need software to do it.
CB 250–This software gives you the top 250 Clickbank products. Now for someone looking for affiliate programs, that seems like a good tool to have. But you can get the same information by logging in to your Clickbank account, so why pay for it?



1-Click Affiliate–With this software you are supposed to just input a few details, choose a template with a preloaded script, click a couple of buttons, and there's your landing page with a money-making campaign that can make millions!
However, the quality of these pages is extremely low, in my opinion. It's just a bunch of keywords built into tired content that is very poorly done.  The traffic you get will see it for what it is and leave.
Rapid Video Ranker–Uploading great videos to YouTube is a profitable way to promote products. But you're not going to make great videos with this software.
Just like with the 1-Click Affiliate, these videos are created by inputting some data and within 60 seconds you are supposed to have a video to upload for "fast, free traffic". The low quality of these slide shows is not what's going to make you any substantial money in my opinion.
King of the Zoo–You're supposed to use this software to find the top products on JVZoo to sell. But again, just go to JVZoo! You don't need to buy software to gain access to information you can get for free online.
No Free Membership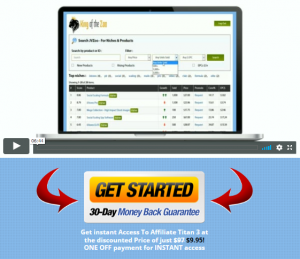 One of the best ways for any company to sell their product is to let potential buyers actually see that it works.
The platform that I trained with in order to start affiliate marketing has a free membership where I could build 2 websites and I had access to many of their services indefinitely! They know the value that they have created in their system and are confident that customers will see it when they try it out.
Affiliate Titan offers nothing until you pay for their software. You're just supposed to believe their claims that the search engines will love everything you put out, and you'll make thousands of dollars every month with very little effort on your part!
But they have a 30-day money back guarantee, so that's just as good, right?  Companies can make a great deal of money from their upsells and keep the initial price low to encourage quick sales and discourage refunds.
How far are most people really willing to go to get back $9.95?  I know from my own experience that I'm much more likely to avoid the hassle for a small amount more than I would be for something more substantial.  So the company keeps their refund rate low and gets to keep the cash even if a customer is not satisfied many times.
Upselling and Unrealistic Claims
Affiliate Titan offers their products for a low price, and many people looking to work from home will be willing to pay that for a chance to make some great money.
But unfortunately, what they really seem to be buying is free online information and the opportunity for Affiliate Titan to try to upsell them into more products with claims of making outrageous amounts of money in a short time period.

Affiliate marketing that will make a substantial and sustainable income is not a get rich quick scheme and requires time and hard work. Online buyers want credible, relevant information from a site they can trust.
Affiliate Titan's claim that it will be easy for someone to rank of the top of the search engines with landing pages created from their system is unrealistic and extremely unlikely.
I've looked up many of the websites that are recommending Affiliate Titan. The ones I've seen are scripted with the same outrageous income claims and offer thousands and thousands of dollars worth of "Bonuses".
One site was offering a bonus package that is supposedly worth over $70,000 if you buy Affiliate Titan for $7! Do you really think someone is going to sell you something for $7 when they could be selling it for $70,000?
==>==>  Tired of seeing nothing but scams?  See my #1 rated program here  <==<==
Build Your Early Retirement Rating
Here at Build Your Early Retirement, we will give Affiliate Titan a 1.5 out of 5 and cannot recommend it. I feel that they created a system that looks like it has a lot of value, but doesn't, in order to upsell more products to those who buy it. Don't waste your money!
If you want to make money online with a legitimate program, you can read my full review of Wealthy Affiliate, which is my #1 recommendation.
Not only do you get world class hosting service for your online business and training, you also receive access to their active community platform and 2 free websites–all with no credit card required!
If you have any questions, thoughts, or experiences you'd like to share, we'd love to see them in the comments below!