There's a lot of people out there that say Affiliate Marketing is a scam, it doesn't work, you can't make money that way! Do you think that's true? Is affiliate marketing a scam?
Most of those opinions come from those who've had 2 different kinds of experiences with trying to make money online with affiliate marketing. So let's take a look and see if we can answer this question for you!
The Unsuccessful Marketer
There are many people who start affiliate marketing with high hopes and a lot of drive and passion, and that's what you need! Unfortunately, it's easy for that motivation to slow down as time goes by if you're not seeing fast results.
Affiliate marketing is not like a job where you put in a certain amount of time and effort and then get paid for it. What you are actually doing is building a sustainable online business where the effort you put in now pays you money down the road.
Many people expect to start making money in a few weeks or a couple of months, and that's not realistic for someone who's never created an online business before! It can take many months, or even longer, before your website gets the kind of rankings that will give you the traffic needed to make money.
Why is that? Search engines like Google don't rank new websites high in their search results because those sites haven't proven themselves yet. Google knows that many websites are abandoned before they're 6 months old. So they don't reward young sites with good rankings until they show they're still staying active.
However, what this means for beginners is that they are going to have to stay motivated for an indefinite time without seeing results. Many, many marketers don't understand this because they started without the right expectations. Then after a couple months, they quit, and they're convinced that affiliate marketing doesn't work–it's just a scam!
The real problem is that because of unrealistic expectations, these beginners didn't trust the process! Building a website is a process that takes effort, commitment, and time. You need to build the foundation for your online business by following the process and doing the work.
Here's an article from an affiliate marketer who became successful because he knew the importance of making the effort, being committed, and taking the time to let it work :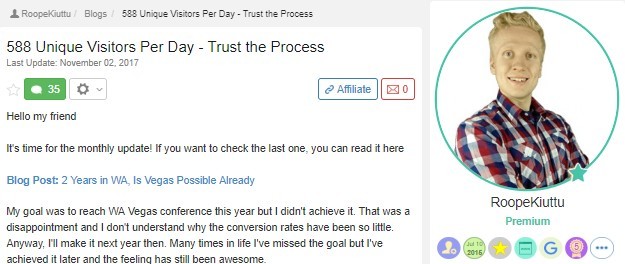 If you don't give up, if you stay motivated and keep at it, if you trust the process, you'll be a successful affiliate marketer!
The Scammed Marketer
There are probably more scam programs in the make-money-online (MMO) sector than in any other industry. When you factor in the fact that most people starting out are inexperienced and naive, it's a bad combination!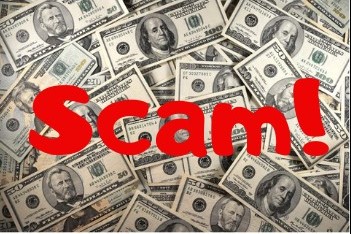 Even after reviewing program after program designed to separate beginners from the money in their wallets, I still get amazed at the number of them out there. Many of them use the concept of affiliate marketing as the basis of their scheme. So it's no wonder that people get taken in by these get-rich-quick systems and then wind up saying affiliate marketing is a scam!
For a lot of people, the ability to make a living online would be a dream with huge benefits for their family life. In fact, some are desperate to find a way to be with their family more by working from home. I know–I used to be one of them!
The creators of online scams know the kind of marketing tactics that draw in inexperienced and naive beginners. They convince them that they can make thousands of dollars online in a very short time by hardly doing any work!
Once they sell their systems for a small charge, they rake in more money with expensive upsells and commissions from the programs the buyers sign up for. Buyers spend more and more money thinking that they're going to get it back when the big profits start rolling in.
None of these programs work, and no one makes the kind of money that's claimed can be made. In fact, most people lose money, sometimes a lot. No one can blame them for saying that affiliate marketing is a scam after that!
So how do you avoid being the victim of a scam and start a real online business? The best thing is to remember that the old saying is true, "If it looks too good to be true, it probably is!"
For more detailed information on how to find legitimate affiliate marketing programs and avoid scams, read Make Money Online Fast–But Beware Of The Scams!
==>==>  Get my FREE Proven 5 Step Plan For Making Money With Affiliate Marketing  <==<==
#1 Rated Legitimate Program
I started affiliate marketing as a beginner with no experience at creating a website and building an online business. After losing a lot of money in a scam years before, saying that I was gun shy is an understatement!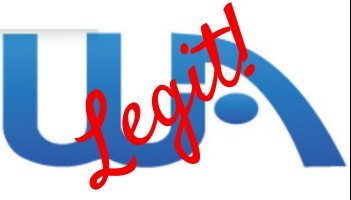 But that bad experience had given me one good thing–I knew how to recognize a legitimate program when I saw one. This platform has everything you need to become a success affiliate marketer, and I now have 6 websites in my online business.
The platform is called Wealthy Affiliate, and in my full review I gave it a 4.8 out of 5 rating. They have world-class website hosting for a powerful, secure site, 1000's of training modules, and an awesome community forum that's unlike any other program.
But the very best part is that you can join as a starter member for absolutely NO cost and see everything they have to offer–even create 2 websites!
If the platform is right for you, their premium upgrade let's you access all the live training, host 25 of your own domains, and much more for just $49 a month. It's an amazing value, and they've created many successful full time marketers. Check it out below–no credit card required!
==>==> See how I make money online with Wealthy Affiliate <==<==
So Is Affiliate Marketing A Scam?
Affiliate Marketing is a legitimate business model that many people use to make money online. But it's not a get-rich-quick program, and you need a legitimate program to train and to host your websites.
There are people who don't stick with affiliate marketing or put in the hard work it takes to succeed. There are also many scam programs that promote their systems as affiliate marketing.
But actual affiliate marketing is real, and for those who succeed, their income is unlimited! So if your dream is to make money online and work from home, start your first website below!